Two Rodeo Publicity Cars
Through their amplified megaphones, these publicity cars cruised the streets and urged fans to come to the Adams-Monnett Rodeo at the Conway Fair. Rodeo promoter, Silver Dollar Brady, leans against the fender of the automobile on the right. Before the advent of public address equipment, announcers at rodeos would use long megaphones to amplify their words to the spectators. In 1916 Frederick Melton "Foghorn" Clancy announced the New Stampede show at Sheepshead Bay Speedway in Long Island, New York with its double-decked, quarter-mile-long grandstand holding 80,000 people. Five assistant megaphone operators relayed Clancy's words. After the first performance the assistants were laid off and Clancy covered the field without megaphones or helpers. When rodeo announcing became a new profession with the invention of the public address system in the early 1920s, Clancy found the competition too keen and switched to a dual career of publicity agent and rodeo historian.
Rodeo Grounds
Reminiscent of an earlier time, when what we know today as rodeo, was the play and amusement of the working cowboy, this arena shows the simplicity of the sport with the key ingredients of stock, spectators, contestants, and some land on which to compete. Early contests occurred in the town square of the railhead at the completion of a trail drive. The first known reference to a cowboy contest was in a letter written by Captain Mayne Reid in 1847 in which he described a "round-up" in Santa Fe as a "Donneybrook fair" in which they contested for "best roping and throwing" along with "horse races and whiskey and wine." Later, these cowboy sports were presented before gathered crowds, usually during Fourth-of-July celebrations. Buffalo Bill Cody has been attributed as the person responsible for bringing these cowboy games to the public as entertainment. He did so in his hometown of North Platte, Nebraska on the Fourth of July, 1882.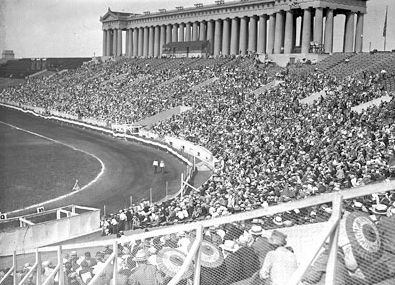 Chicago's Soldier Field
In 1920, Tex Austin's World's Championship Rodeo was held in Chicago on the lakefront, just north of where Soldier Field was to be built in 1924. Foghorn Clancy, rodeo announcer, publicist, and historian, believed that the arena was the biggest ever built up to that time for a single rodeo. Soldier Field, whose east and west classical colonnades were completed in 1926, opened as a memorial to men and women who served in World War I. Chicago Stadium Rodeo was a prominent rodeo through the 1930s and sanctioned by the Rodeo Association of America. In 1939 this rodeo, among all R.A.A. rodeo contests, ranked second only to the Madison Square Garden Rodeo in terms of total purse, i.e. $13,500 compared to $36,520.
"As Advertised, Thrills & Spills"
In 1951 Casey Tibbs (1929-1990), a two-time all-around cowboy champion at that stage of his career, stated in a "Life" magazine cover story that physical fitness played no part in the sport of rodeo. He did not deny the fact, however, that riding sometimes required skill and that by not putting this skill to use, riding could lead to a wreck. Wreck is a rodeo term for an accident in the arena. Tibbs said, "When a bronc starts mixing up his tricks, you gotta know your business. If you don't, you'll either pop your gizzard or eat dirt."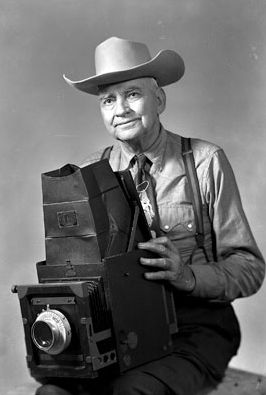 Ralph Russell Doubleday with His Camera
Near the end of his life, Doubleday is shown with his customized black click box, a Graflex camera made around 1880. This camera was modified with rubber bands; tire tape, plaster and chewing gum. Much like his battered and patched camera, Doubleday now walked with a cane and ironically was nearly blind. In a revealing advertisement in the October 1952 issue of Hoofs and Horns magazine, Doubleday declared "Retiring because of poor vision after taking pictures at more than three hundred Rodeos over a period of 45 years…and after making my last appearance at Broken Bow, Nebraska, just recently I shall henceforth endeavor to make it possible for the good public to obtain some of the choicest of my Rodeo Pictures through the medium of this ad." In 1926 Will Rogers, a 1955 Great Westerner inductee wrote about Doubleday in his McNaught Syndicate column, "The Worst Story I Have Heard Today." Rogers wrote: "You have all seen at various times wonderful pictures of Cowboys and Cowgirls on bucking horses, in every kind of sport connected with a horse or a steer. You have seen buckers in the most inconceivable shapes. You marveled at the picture as much as you did the boy or girl that was on the horse, because sometimes they wasn't. You said to yourself, 'Where in the world was the photographer when he shot that?' Well, this bird I am introducing you to right now is the one that has taken 90 per cent of the good rodeo pictures ever made. He don't get 'em till they are doing something unusual. But when they do, he is right down under them shooting up at 'em. He has had horses jump over him, wild steers run over him. But he always comes up with an exact likeness of the animal."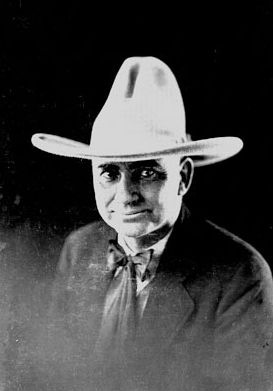 Portrait of Ralph Russell Doubleday
According to Foghorn Clancy, Doubleday was the "World's Champion Rodeo Photographer." Doubleday was a tall, dark-haired man with liquid brown eyes and a friendly smile on a lean tanned face. He spoke in a deep, rich, mellow voice, which accentuated a certain authoritative demeanor. In 1952 Clancy wrote: "Ralph was the first rodeo photographer, and noted in his field because in those days there were not many photographers who would risk camera and film, not to mention life and limb, trying to get action pictures…His photography has been a big factor in the development of the sport, for action pictures, like nothing else, can depict the thrill and excitement of the game." Using a camera weighing up to 10 times that of today's camera, which can expose five to ten shots in any 8-second event, Doubleday could consider himself successful if he got one shot.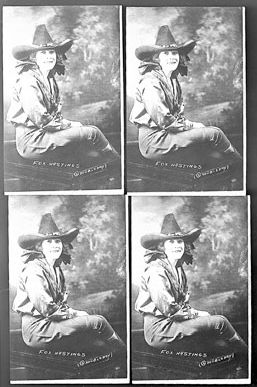 "Fox Hastings"
circa 1930 Printed from original negative, silver gelatin dry plate, 7″x5″ Inducted into the National Cowboy Hall of Fame's Rodeo Hall of Fame in 1987 Eloise Fox Hastings Wilson (1882-1948) performed trick and bronc riding in her early years with the Irwin Brothers' Wild West Show. Writing in 1948, Foghorn Clancy, her manager and publicist, described her trick riding performance in the following manner, "…while she was a little heavy to be very graceful… she had one of the fastest running trick riding horses ever seen in a rodeo arena, 'Buster,' and the red-headed girl on that flying mount doing any kind of a stunt was little short of sensational." Hastings was known as the redheaded feminine daredevil of the arena.
"Ruth Roach, Florence Hughs, Bea Kirnan, Bonnie Grey, Rose Smith, Toots Griffith, Ruby Roberts"
On a Doubleday photographic postcard with this image, postmarked July 24, 1924, a written message read in part "…I was here. They sure had some doing here. The biggest crowd. Cheyenne just flowed over with people, am going back tonite…" (Quoted from Judy Crandall's Cowgirls: Early Images and Collectibles, page 56)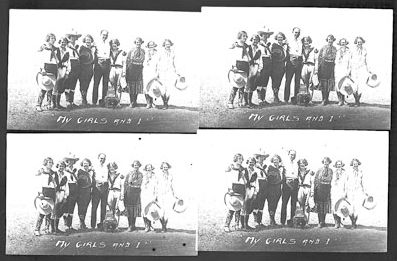 "My Girls & I"
L to R: Tad Lucas, Ruby Roberts, Rose Smith, Mabel DeLong Strickland, Ralph R. Doubleday, ?, ?, ?, and ? While it is obvious that Doubleday had a passion for the sport of rodeo, he was exhilarated by its inherent danger and worked assiduously to capture its beauty. He also had a strong penchant for cowgirls as witnessed here and in his numerous studio portraits of outstanding cowgirls of the day. Foghorn Clancy wrote, "at every rodeo it's the ladies that come asking if Doubleday is there or going to be there." Clancy continued, "many a cowboy has wondered why the ladies will rave about the swell ride of a champion bronc rider, or the fast time made by a bulldogger, and then stroll away with the photographer." Married to Olive E. Walter of Laramie, Wyoming since 1911, Doubleday separated from his wife and son, Russell Ralph Doubleday around 1920.
Cowgirls of the Golden Age of Sport
Back row, left to right: Florence Randolph, Ruth Roach, Mabel Strickland, Reine Hafley Shelton, Mildred Douglas, Bonnie McCarroll, Rose Smith, and Unidentified. Front row, left to right: Bea Kirnan, Mayme Stroud, and Fox Hastings. An outstanding trick rider and bronc rider and daughter of California Frank Hafley, Reine Hafley Shelton (1902-1979) was called the World's Greatest Lady Trick Rider. For a time she performed a highly successful act with an Arabian horse named Lurline in which they would jump 50 feet into a tank of water. With California Frank's show, Shelton performed trick and bronc riding, as an elephant rider and an oriental and flamenco dancer. In 1918 she began her competitive career placing second in the trick riding at Cheyenne Frontier Days. Shelton earned over $125 by winning the bronc riding event at Madison Square Garden in 1924. In 1925 she eloped with Dick Shelton while he was performing with Miller Brothers 101 Ranch Wild West Show. Shelton was inducted into the National Cowgirl Hall of Fame in 1983 and the National Cowboy Hall of Fame's Rodeo Hall of Fame in 1991. Considered to be one of the greatest cowgirl bronc riders of her day, Mildred Douglas (1895-1983) was inducted into the National Cowgirl Hall of Fame in 1988. At seventeen Douglas joined the Cook and Wilson Circus and rode jumping horses and learned trick riding. About 1916 she entered her first rodeo contest of bronc riding at the Joe Bartle's RoundUp in Kansas City. Douglas went on to win the bronc riding events at Garden City, Kansas and at Pendleton, Oregon in 1917. In 1918 she repeated her Garden City win and won the event at Cheyenne Frontier Days. In 1919 Douglas won the bronc riding at Belle Fourche. Between 1921 and 1928 she was connected with the publicity departments of many rodeos. Bronc riding champion at Madison Square Garden in 1922, Bonnie McCarroll (1897-1929) won $400. In 1923 she won the bronc riding event at Yankee Stadium followed by her winning this event at Wembley stadium in London in 1924. McCarroll was thrown and fatally trampled by a bronc at the Pendleton RoundUp in 1929. Ironically, she and her husband, Frank McCarroll had planned to retire and Pendleton was to be their last rodeo. Married to 1965 Rodeo Hall of Fame inductee, Leonard Stroud, Mayme Saunders Stroud (?-1963) launched her competitive career at Lucille Mulhall's RoundUp in 1916. She won the 1917 bronc riding event at San Antonio, Texas.
"Cowgirls on King Bro's Rodeo"
According to Mary Lou LeCompte in her book Cowgirls of the Rodeo a little more than half of the 190 competing cowgirls between 1920 and 1936 had careers of three years or longer and the average career length for this group was 15 years. Billie King, third from left, appeared at a King Brothers Rodeo with Pauline Lovenze, Dorothy Barden, Violet Corathan, Margie Henson, Alice Greenough, Violet Clements and Skeeter Bix. Other cowgirls, pictured here, are unidentified.
"Cowgirls at Frontier Days Cheyenne, Wyoming 1924"
NAMES: Cheyenne Frontier Days; Strickland, Mabel DeLong; Lucas, Tad; Smith, Rose; Roberts, Ruby; Woods, Opal The 1922 Madison Square Garden rodeo influenced and changed cowgirl fashion. New York newspaper advertisements for the Madison Square Garden Horse Show had pictures of female riders wearing jodhpur pants. Within two years, similar jodhpurs became standard attire for cowgirl trick and bronc riders. Note the leather fringed split riding skirt, jodhpur pants, classic large silk neckerchiefs, colorful waist sashes, stitched boots and relay racing shoes, and peaked ten gallon hats. Third from the left is Rose Smith, a multi-talented cowgirl, who won the 1923 bronc riding contest at Madison Square Garden winning $875. Fourth from the left is Ruby Roberts, who married Rube Roberts twice, began trick riding in 1925, and ended her 19-year, 300-rodeo career in 1933. Over her career she accumulated a series of injuries including: both ankles, one arm and two ribs broken at the same time, a broken arm, a broken collar bone, a broken toe and finger, one internal injury, and many bruises and lacerations; Sixth from left is Opal Woods, a trick and bronc rider as well as an accomplished trick roper.
Kirnan, Smith, Strickland, Hastings, Roach & Randolph
Kirnan participated as a trick rider in the 1916 Guy Weadick's New York Sheepshead Bay Stampede. Following her participation in the 1924 Tex Austin London Rodeo Exhibition at Wembley, Kirnan with her husband Tommy, produced a theater rodeo act called "Tommy Kirnan Presents Wembley Rodeo," which played at the London Coliseum and other cities in Europe. In 1929 Kirnan won the bronc riding championship at Madison Square Garden. Hailed as one of the famous cowgirl bronc riders of the 1920s, Rose Smith was also an accomplished trick rider. In 1923 at Ringling's Madison Square Garden contest, she won $960, including the $600 first prize in bronc riding, $185 day money (daily prizes), and $175 in the costume event. A winning relay racer, Strickland (1897-1976) won the 1913 through 1915 trick riding competitions at Walla Walla, Washington riding with the Drumhellers, horsemen and rodeo producers. Married to Hugh Strickland, Mabel won her first steer roping contest at the Dewey Roundup with a record time of 21.2 seconds. Winner of the McAlpin trophy for all-around cowgirl at the Cheyenne Frontier Days in 1922, Strickland won the trick riding competition at Madison Square Garden in 1922 (tied with Bonnie Gray), 1923, and 1924. In 1927 she set a steer roping record at the Pendleton Roundup and was named the Roundup Queen. Perhaps the most photographed cowgirl of her era, Strickland played a bit part in a Bing Crosby movie entitled "Rhythm on the Range" in 1936. Later she did "replacement riding" (stunt riding) for actresses in the movies. Strickland was inducted into the National Cowboy Hall of Fame's Rodeo Hall of Fame in 1981 and the National Cowgirl Hall of Fame in 1992. Running away from a convent school at age 16 to marry bulldogger Mike Hastings, Fox Hastings (1882-1948) performed trick and bronc riding in her early years with the Irwin Brothers' Wild West Show. Fox first exhibited her bulldogging skills in 1924 at the Fort Worth, Texas Rodeo and established a record time of 17 seconds. She continued to bulldog at more than a dozen rodeos, including the revived 101 Ranch Wild West, in that year. She excelled in this exhibition event and became the foremost cowgirl contract performer in this field. In the 1940s she developed tuberculosis. Shortly after her second husband died in 1948, she died of self-inflicted gunshot wounds. Hastings was inducted into the Rodeo Hall of Fame in 1987. Running away from her Missouri home in 1912, Ruth Roach (1896-1986) joined the 101 Ranch Wild West Show and later performed with the show in London, England. Her competitive debut came in 1917 at the Fort Worth Roundup, the first indoor rodeo. There she rode the bronc, Memphis Blue, and claimed the $100 first-place prize. In 1919 she captured first-place finishes in the Fort Worth and Cheyenne bronc riding contests and in 1920 was named champion lady bronc rider of Chicago's 1920 Roundup. She performed before President Warren Harding in 1923 at Washington, DC. The following year she performed in Tex Austin's rodeo in London, where at Wembley Stadium as many as 92,000 fans attended the first performance. In 1932 she was the cowgirl champion in the bronc riding at Madison Square Garden winning $526. While she continued to rodeo through 1938, this was her last major title. Roach was inducted into both the Rodeo Hall of Fame and National Cowgirl Hall of Fame in 1989. Randolph, (1898-1971) known as Princess Mohawk early in her career, was an outstanding trick and bronc rider. Only four feet six inches tall and weighing ninety pounds, she stunt doubled in Hollywood films for famous actresses in scenes requiring horses jumping over obstacles or ditches. Mack Sennett, the "King of Comedy" between 1912 and 1917 and director of the 1914 silent comedy film, "Tillie's Punctured Romance," which established Charlie Chaplin and Marie Dressler as comedians, selected Randolph as one of his "Bathing Beauties." Sennett's 1911 and 1912 films entitled "The Diving Girl" and "The Water Nymph" which featured the "Bathing Beauties" made a woman in a bathing suit an icon in films.
"Cowgirls with Geo. Adams Rodeo Albion, Illinois"
L to R: Unidentified, Bea Cooper, Unidentified, Lucyle Garmes Richards, Alice Greenough, Minnie Adams, Pearl Biren, and Myrtle Goodrich. Around the year 1925 Vera McGinnis (1892-1990) became the first cowgirl to wear pants in the arena. Considering skirts and tight breeches as nuisances, McGinnis created a pair of trousers from a pair of little boys' flannel pants with a zipper on the side. She remarked, "I like to wear them so then I can kick up my heels as I like." During the 1930s women on the rodeo circuit usually made between 15 and 20 costumes a year. According to Mary Lou LeCompte in her book Cowgirls of the Rodeo, "several innovative designs appeared including sailor suits; blouses with huge, flowing sleeves; trousers with matching capes; and elaborate western suits of leather and buckskin."
"Some of the Cowgirls at Johnsons Rodeo, Harlingen, Texas"
L to R: ?, Grace Runyon, Tad Lucas, Ruth Roach, Alice Sisty, Reine Hafley Shelton, Bea Kirnan, Lucyle Roberts Texas ranching millionaire, Col. William Thomas Johnson, began producing rodeos in 1928 and by 1931 took over the Madison Square Garden rodeo. Johnson scouted and brought young cowgirls onto the big-time circuit. According to Mary Lou LeCompte in her book Cowgirls of the Rodeo, "at a time when health and accident insurance was nonexistent in the dangerous business, Johnson financed the medical treatment of women injured at his rodeos, visited them in the hospital, and paid for their transportation home when they were released."
Seven Cowgirls and a Mule
Daughter of an Idaho rancher,Bonnie Treadwell McCarroll (1897-1929) was an extremely popular cowgirl who joined the rodeo circuit as a slick bronc rider (one who rode without hobbling). In 1912 she married bulldogger Frank McCarroll and competed in trick riding, steer riding, bulldogging, and automobile jumps events. Her fatal trampling by a bronc at the Pendleton RoundUp of 1929, when she was unable to free herself from the hobbled stirrups (stirrups which were tied together beneath the horse) caused Pendleton to drop cowgirl bronc riding from its programs. The reason why McCarroll decided to ride in this easier but more dangerous way is unknown, but her death and the formation of the R.A.A. (Rodeo Association of America) with its opposition to women's contests resulted in cowgirl bronc riding becoming increasingly rare in the West. However, as Mary Lou LeCompte points out "at the same time, it gained popularity at big eastern rodeos controlled by powerful independent producers with no interest in or need for joining the R.A.A."
Nine cowgirls in front of gate
Left to Right: Grace Runyon, ?, ?, Tad Lucas, ?, Florence Randolph, Bea Kirnan, ?, Opal Woods Inducted into the National Cowboy Hall of Fame's Rodeo Hall of Fame in 1975, bronc rider Fannie Sperry Steele (1887-1983) once said, "Sometimes it takes a lot of grit to do what you want to do, but I can't see how people can stand the monotony of doing work at which they are not happy. Rodeo teaches you that death is right around the corner, and the 'now' is all you have, so make the most of it. It may be the old Anglo-Saxon creed, 'Eat, drink, and be merry for tomorrow you die' carried over into rodeo, but it fits. We live each day as if it's our last. How can I explain to dainty, delicate women what it is like to climb down into a rodeo chute onto the back of a wild horse?"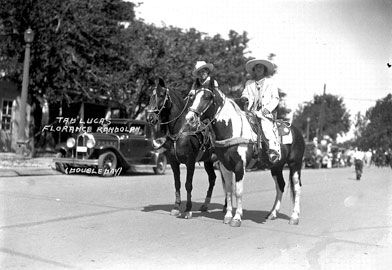 "Tad Lucas [&] Florence Randolph"
Tad Lucas (1902-1990) and Florence Randolph (1898-1971) were inducted into the National Cowboy Hall of Fame's Rodeo Hall of Fame in 1968. They have also been inducted into the National Cowgirl Hall of Fame. With her death-defying back drag, Lucas was the undisputed champion trick rider from 1925-1933. She was named All-Around Cowgirl at Madison Square Garden's world championship rodeo eight times. Known as a competitive trick and bronc rider, Randolph achieved fame in the 1919 Calgary Stampede when she won the Roman racing, competing against men. In 1926 she won the ladies' bronc riding event at Philadelphia's Sesquicentennial Rodeo and in 1927 she won the trick riding championship at Madison Square Garden earning over $900. She repeated this win in New York in 1933 acquiring a trophy and saddle. Earlier she performed in the circus and eventually formed her own Wild West show calling it Princess Mohawk's Wild West Hippodrome.
"Alice and Marge Greenough"
The Greenough sisters joined the rodeo circuit in the late 1920s and their first employer was King Brothers. In late 1929 Alice (1902-1995) competed in her first Madison Square Garden Rodeo, but it was not until 1940 that she won the bronc-riding contest there. In 1933 she traveled to Spain to ride fighting bulls into the arena. She won bronc championships in Boston Garden in 1933, 1935, and 1936. In Australia in 1935 and 1939 she won the international "buck-jumping" (bronc riding) contests. In 1941 Greenough went into the stock contractor business with friend and future husband, Joe Orr, forming the Greenough-Orr Rodeo Company, which produced rodeos in the Northwest until 1959. In 1937 Margie won the bronc-riding contest at Billings, Montana. Both were inducted into the National Cowboy Hall of Fame's Rodeo Hall of Fame in 1983 and into the National Cowgirl Hall of Fame.
"Fox Hastings [,] Mable [sic] Strickland [and] Bea Kirnan [,] San Antonio, Texas"
According to Mary Lou LeCompte in Cowgirls of the Rodeo at least 16 women participated in rodeos, Wild West shows, or both during the 1880s. Between 1886 and 1911, 17 women competed in rodeos, while 21 others performed in one of eleven Wild West shows. The tremendous growth of both rodeo and Wild West shows between the late 1880s and 1917 came to an abrupt halt with World War I. With the decline of the Wild West shows, the champion cowgirls, pictured here, successfully bridged their professional careers into what was the Golden Age of Sport, 1919-1929.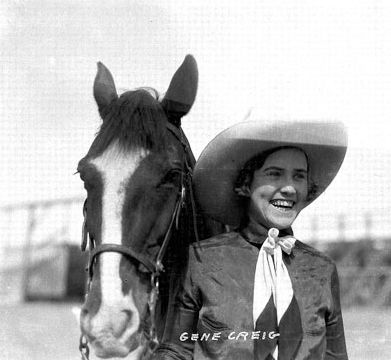 "Gene Creig (sic)"
Rose Smith, Cowgirl Portrait
Rose Smith was a trick and bronc rider. In 1923 at Ringling's Madison Square Garden contest, she won $960, including the $600 first prize in bronc riding, $185 day money (daily prizes), and $175 in the costume event. She was married to Oklahoma Curly Roberts.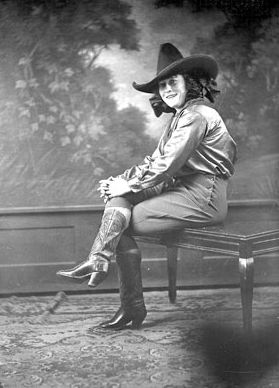 Fox Hastings Sitting on Studio Bench
One of the first female steer wrestlers (bulldoggers) Fox Hastings, born Eloise Fox, debuted her talent in this event at Fort Worth, Texas in 1924. Rodeo announcer, historian and Hastings' manager and publicist, Foghorn Clancy, recalled her debut occurring at Houston and that the condition of the arena was "as muddy as a hog wallow." He described Hastings as one of the "nerviest cowgirls" he ever saw.
"Ruth Roach"
A circus performer before pursuing a career in rodeo, Ruth Scantlin Roach grew up in Excelsior Springs, Missouri where she learned to ride donkeys and Shetland ponies. Beginning with the annual Fort Worth Fat Stock Show and Rodeo, the 1919 season marked Roach's debut in and the revival of rodeo. In advertising the rodeo, the Star Telegram featured a half page of action shots of Roach with the caption (quoted in LeCompte's Cowgirls of the Rodeo: "Of all the features at the Fat Stock Show and Rodeo, none is more thrilling than the riding of Ruth Roach, cowgirl." Once she staged some trick riding in the lobby of the Hotel Texas in Fort Worth to entice ticket buying fans to come to the rodeo.
Mabel Strickland, Posed Cowgirl Portrait
Queen of the Pendleton Roundup of 1927, Strickland was often referred to by the press as the "Lovely Lady of Rodeo" and the "Crown Princess of Rodeo." She was also a champion relay racer. Using three horses to complete a 1 ½ mile racetrack, the relay racer changed horses after each ½ mile. In earlier competitions racers had to use one saddle which forced the competitor to unsaddle, re-saddle and remount each horse. Due to increasing accidents, the rules were changed to allow all three horses to be saddled which in turn permitted the racer to leap from horse to horse.