"If you want anything bad enough, go out and fight for it. Work day and night in order to achieve the goal. Sacrifice your time, your peace, your sleep. Sweat for it, fret for it, plan for it. Lose your terror of God and man for it. Hold fast to the pillars of faith, hope, confidence, stern pertinacity. Defy cold poverty, pain of body and brain. Besiege and beset for it, and you're bound to win."
– Texas Guinan, actress
Introduction
"Women's lives focused upon domestic production, childbirth and childcare, family relationships and other 'female' tasks… Even unmarried and married women who worked outside the home usually found their employment opportunities limited by their gender." This is a quote from The Female Frontier: A Comparative View of Women on the Prairie and the Plains by Glenda Riley. Such is the view of society when it came to women of the West from 1890-1920. The roles of women were set forth for them by the Victorian idea that a woman was limited in her abilities to survive in a man's world and that she was expected to focus only on her domestic duties. For many women the accepted roles were rewarding and worthwhile. They happily set forth creating a home for their husbands and children. For some women the role expected of them was disappointing and stifling. Woman who dared to step out from the norms set by society were typically scorned and ridiculed. However, many women, either by choice or necessity, ignored the expectations of society by creating impressive careers in a variety of fields.
The women included in this exhibit represent a small sampling of the women of the West who chose to create alternate lives for themselves. They are but a tiny fraction of the women whose lives represent the beginning of women's acceptance into the workforce. Some chose their careers as a means of financial support, others as a necessity for survival. You will read of those who were outright abandoned by their husbands and of those whose husbands were distracted by their own interests. You will see women who chose never to marry and those who married repeatedly. You will even find those whose husbands encouraged them to follow their dreams of being a woman in the workforce. Some of the women chose careers that even today would be considered unsavory. This exhibit explores the world of artists, gamblers, prospectors, rodeo personalities, musicians, actresses, and even prostitutes. But without each and every one of these unique women, a woman of today's generation and future generations may not have the opportunity to pursue her own special calling.
Thirteen individuals were selected to highlight specific women who chose to pursue careers during a time when most women were fulfilling the traditional roles of housewife and mother. These non-traditional careers vary between prospector to gambler, author to politician, artist to musician, and bronc rider to actress, among others. Below are photographs and brief biographies of each of these women. Images are from the photographic collections of the Dickinson Research Center unless otherwise noted. These thirteen women were selected and researched by Dickinson Research Center Librarian Karen Spilman, also curator of this exhibit.
Mattie Babel, "Cow Girl Cornetist"
Dates Unknown
"Mattie Babel, the 'cow-girl cornetist,' was presented with a solid silver gold-mounted cornet, by C. G. Conn, a manufacturer of Elkhart, Ind., at Kohl & Middleton's West side Museum, Chicago, Ill., Oct 14. Smith Warner made the speech." – From the New York Clipper, unknown date.
Between 1880 and 1910, the increase of music teachers rose considerably from 42 to 61 percent, granting middle-and upper-class women as the "chief promoters of culture." Judith Tick explains in Ruth Crawford Seeger: A Composer's Search for American Music, that women interested in music teaching and performing could contribute their inspiration to "the nineteenth century tradition of feminine accomplishment, and it did not inherently challenge prevailing Victorian ideologies about the proper role of women. Female musicians clustered around the lower-status lower-paying rungs of the professional ladder. 'Music teacher' – an umbrella term that could cover the lady around the corner who gave lessons in her home to the teacher with her own studio – was one thing, while 'musician' another, and when the census distinguished between them, the distribution clarified the difference between private and public space. The great majority of musicians out in the world, on stage as performers, in print as composers, were men."
It was permitted in the early 1900s, however, to have women participate in ragtime and vaudeville bands as primarily pianists and composers. They also found work in circuses, carnivals, tent shows, and family bands, which may be the case of cornetist Mattie Babel and her pianist husband A.O. Babel.
"Almost before we realized it the native-born, and in some instances, native-trained, pianist arose in our midst, and we discovered the American woman pianist."
– Harriette Brower, pianist & author
Kate Barnard
(May 23, 1875 – February 23, 1930)
Kate Barnard was the first woman to be elected as an Oklahoma state official when she was named as the Commissioner of Charities and Corrections in 1907. This election heralded the first woman to be elected to a state or national position during a time when women were not allowed to vote. Barnard worked extensively to enact child labor laws and education laws, and to improve working conditions for employees.
Barnard's most memorable contribution was her work on behalf of prisoners held in horrible conditions in Kansas prisons. Through her efforts, the Oklahoma State Penitentiary was constructed. Barnard served two terms, but due to her advocating on behalf of Indian wards being cheated out of their own land, Governor William H. Murray saw to it that her office did not receive funding, therefore eliminating her position.
Evelyn Cameron
(August 26, 1868 – December 26, 1928)
"Although my costume was so full as to look like an ordinary walking dress when the wearer was on foot, it created a small sensation. So great at first was the prejudice against any divided garment in Montana that a warning was given me to abstain from riding on the streets of Miles City lest I might be arrested! After riding into town forty-eight miles from the ranch, I was much amused at the laughing and giggling girls who stood staring at my costume as I walked about." 
– Evelyn Cameron, photographer
Evelyn Jephson Flower was born in a small town just south of London, England, where she grew up in a comfortable home. Evelyn married Ewen Cameron in 1889 and both left their comfortable lives for the open skies of Montana. Though she had little experience at running a ranch, Evelyn eagerly tackled the duties required to make the couple's lives contented. Ewen devoted his time to wildlife observations, leaving Evelyn to handle the ranch. Money became an issue so Evelyn decided to take up photography as a means of making cash.
Evelyn developed an artistic eye for her photographic works, creating images that moved and entertained the eye of the observer. She showed fellow women pioneers doing work usually not thought fit for women to do but were necessary to survive in the harsh environment of Montana. This work included jobs like branding, plowing, and roping. Cameron was also known for capturing the first images of North American birds in their native surroundings, without the benefit of a telephoto lens. Evelyn Cameron died unexpectedly after a routine appendectomy on December 26, 1928.
The image used in the exhibit is not available online due to reproduction restrictions. For reference purposes, here is a description of the photo: Evelyn Cameron standing behind camera on tripod, people standing in background. September 4, 1921. Evelyn Cameron, photographer. Photo courtesy of Montana Historical Society Research Center Photograph Archives, Helena, Montana.
Martha Jane "Calamity Jane" Cannary
(circa May 1, 1852 – August 1, 1903)
"By the time we reached Virginia City I was considered a remarkable good shot and a fearless rider for a girl of my age."
– Calamity Jane, "scout"
Much of what is known about Martha Jane Cannary has been discounted by historians. However, her tales about her adventures contributed to the myth that is "Calamity Jane."
Martha Jane Cannary was born in Missouri and by the time she was fifteen she had traveled to Virginia City, Montana. However, after the death of her mother, her family settled in Salt Lake City, Utah. During all her travels, Martha learned how to ride and shoot. After the death of her father, Martha moved her siblings, two brothers and three sisters, to Piedmont, Wyoming. To support her family, Martha worked at a variety of jobs, eventually becoming a scout in 1874, according to Cannary. It is known that Martha was indeed a "bullwhacker," a person who walks beside a team of oxen and motivates them to keep moving by using a whip.
Also according to Cannary, she gained her nickname from Captain Egan after she rescued him while he was being attacked by hostile Indians. Leading an adventurous life as a "scout," Calamity Jane would eventually move in 1876 to Deadwood, South Dakota, where she became friends with Wild Bill Hickok. By 1893, Calamity Jane began traveling with Buffalo Bill and his Wild West Show performing as a horse rider and trick shooter. Unfortunately, along the way Calamity Jane became a hard drinker and spent many a night in jail in order to sober up. Calamity Jane died of pneumonia on August 1, 1903.
Mary Louise Cecilia "Texas" Guinan
(January 12, 1884 – November 5, 1933)
"If you want anything bad enough, go out and fight for it. Work day and night in order to achieve the goal. Sacrifice your time, your peace, your sleep. Sweat for it, fret for it, plan for it. Lose your terror of God and man for it. Hold fast to the pillars of faith, hope, confidence, stern pertinacity. Defy cold poverty, pain of body and brain. Besiege and beset for it, and you're bound to win."
– Texas Guinan, actress
Mary Louise Cecilia Guinan was born in Waco, Texas, in January of 1884. During her early life, Guinan worked as a professional singer but dreamed of being an actress. Tex moved to New York in 1907 and it was here that she began her career as an actress. Her first job was in Reginald De Koven's operetta,The Snowman. Guinan then moved into a vaudeville career through which she developed a close friendship with Mae West. She starred in several silent films, including The Wildcat.
Tex moved from films to night clubs after returning to New York in 1922, working first as a hostess at a restaurant called the Café des Beaux Arts. By 1924, Tex could be found at the El Fey Club, where she developed her famous line "Hello, Sucker!" Texas Guinan opened her night club, 300 Club, on New Year's Eve of 1926. Her club, which had opened during the Prohibition Era, would only last until February 16, 1927, when it was closed for violating the new curfew law. Tex returned to acting in 1927, however, she never quit the night club business; she opened the Century Club later that same year. She continued to open other night clubs throughout her life; all of them closed for violations of New York laws. At one point, Tex stood trial for maintaining a public nuisance. She was found not guilty of all charges. Texas Guinan died on November 5, 1933, of amoebic dysentery.
Running away from a convent school at age 16 to marry bulldogger Mike Hastings, Fox Hastings performed trick and bronc riding in her early years with the Irwin Brothers' Wild West Show. Fox first exhibited her bulldogging skills in 1924 at the Fort Worth, Texas Rodeo and established a record time of 17 seconds. Rodeo announcer, historian, and Fox's manager and publicist, Foghorn Clancy, recalled her debut and that the condition of the arena was "as muddy as a hog wallow." He described Hastings as one of the "nerviest cowgirls" he ever saw.
She continued to bulldog at more than a dozen rodeos, including the revived 101 Ranch Wild West. Hastings was known as the redheaded feminine daredevil of the arena. Unfortunately, she developed tuberculosis in the 1940s. Shortly after her second husband died in 1948, she died of self-inflicted gunshot wounds. Hastings was inducted into the Rodeo Hall of Fame in 1987.
"Poker Alice" Ivers
(February 17, 1851 or 1853 – February 27, 1930)
"I would rather play poker with five or six experts than to eat."
– Poker Alice Ivers, gambler
Alice Ivers was born in either 1851 according to her or 1853 according to other sources. Her reputation as a professional gambler began after her marriage to Frank Duffield, a mining engineer. Having watched Frank play cards, Ivers took what she learned from those observations and began gambling on her own after her husband died in an explosion.
Ivers continued gambling throughout her life. She traveled from town to town, expertly winning poker games as she went. Ivers married three times during her life, but none of her spouses outlived her. After her third husband died, Ivers purchased a house near Fort Meade, South Dakota, turning it into a brothel and gambling hall. The authorities closed down her business after she "accidently" shot two soldiers, killing one of them. Ivers was repeatedly arrested for being a madam, but due to her advanced age was pardoned of each arrest.
Ellen Elliott Jack
(November 4, 1842 – Unknown)
"I do not fear man or devil; it is not in my blood, and if they can shoot any straighter or quicker than I, let them try it, for a .44 equalizes frail women and brute men, and all women ought to be able to protect themselves against such ruffians."
– "Captain Jack", prospector
Ellen Elliott Jack was born in New Lentern, Nottingham, England, on November 4, 1842. As a young girl, Ellen encountered a gypsy queen who foretold of a life of tragedy and treasures. Who would have believed these predictions would come true? Ellen met her future husband, Charles E. Jack, in 1860 while aboard the steamer, James Foster. Once married, Ellen settled with Charles in New York, but soon he left the city and became a Navy captain during the Civil War. While he was gone, Ellen gave birth to their first daughter and soon after the war gave birth to a son. Tragedy struck when both children were lost to scarlet fever. Later, Ellen had two more daughters, losing one to scarlet fever. It was not long after these deaths that Captain Jack died of an enlarged heart.
Ellen decided she would head west and placed her surviving daughter in the care of her sister-in-law. She established a thriving boarding house in Gunnison, Colorado, and began her search for treasures in the mines of Colorado. During one of her trips into the mountains, Ellen discovered the very profitable, Black Queen silver mine. The mine provided Ellen with happiness as well as heartache. Several men proclaimed their love for her but Ellen did not return that love until she met a man named Walsh. It turned out that Walsh was a con man and he tried, and failed, to steal all of Ellen's wealth.
Accomplished at handling pistols and rifles, Ellen had to use these weapons more than once throughout her life. The boom towns she traveled through required that she be ready to defend herself and face arrest for doing so. Of the numerous times she was arrested, Ellen was always justified in shooting the man or men who tried to steal, cheat or kill her. Ellen spent the rest of her life prospecting in the Colorado area. It is said she always carried her pistol and pick-ax with her no matter where she traveled.
Bonnie McCarroll
(1897 – September 29, 1929)
"I was badly bruised and shaken up, but then and there I made up my mind that I would never quit until I became a champion."
– Bonnie McCarroll, bronc rider
Born in 1897, Mary Ellen Treadwell grew up on her grandfather's 2,000-acre cattle ranch in High Valley near Boise, Idaho. In 1915, she married Frank McCaroll. Although she won first place at her debut at the Pendleton Round-Up in 1915, Bonnie also participated that same year in her first professional contest in Vancouver, British Columbia, where she rode six horses and won second place. In 1922, Bonnie won the bronc riding championships at Cheyenne Frontier Days and Madison Square Garden. In fact, she was the first Madison Square Garden cowgirl bronc riding champion.
On September 19, 1929, at the Pendleton Round-Up, Bonnie McCarroll participated in her final rodeo. Ironically, she and Frank planned to retire to their Boise, Idaho, home following this rodeo. With her stirrups hobbled (a requirement of the Pendleton Round-Up Committee) Bonnie mounted Black Cat. Shortly after his blindfold was removed, the bronc fell and, while attempting to recover, he went into a complete forward somersault. As an eyewitness to the event, Reba Perry Blakely described the horrific action: "Once all the way over Black Cat did the instinctive thing, he leaped to his feet and continued his bucking while Bonnie McCarroll, so obviously knocked out in that fall, hung head down, her body limp and one left foot still caught in the stirrup. For six more horrible leaps and bucks Black Cat's weight literally shook the ground and at each leap Bonnie's head banged on the earth with sickening repetition, until mercifully that boot came off and she lay limp upon the ground." Suffering severe spinal injury and developing pneumonia, she died eleven days later in a Pendleton hospital on September 29, 1929.
Bonnie's death was a significant event, a turning point for women in the rodeo. It marked the beginning of the end for cowgirl participation in rodeo. The women's bronc riding was scratched from Pendleton, and by 1941 the event was banned from all major competitions, including Madison Square Garden.
Augusta Metcalfe
(November 10, 1881 – May 9, 1971)
"Few of us can escape the primeval sentence that we shall live by the sweat of our brows, but all of us, even though our lots be cast in scenes of isolation and hardship, where books and music and art are little known, and perhaps a common schooling not always be had, may reach out for themselves and rise above the daily grind of household duty to seek for the beautiful and claim it for our own."
– Augusta Metcalfe, artist
Augusta Isabella Corson Metcalfe was born in Vermillion, Kansas, but five years later her family moved to the Oklahoma Panhandle. Seven years later the family moved again, this time near Durham, Oklahoma. Her mother recognized Augusta's natural talent for drawing when she was a young girl. Metcalfe spent much of her time drawing everything she saw around the homestead. Though she had no formal training, Metcalfe won prizes for her artwork at the Oklahoma and Texas state fairs in 1911.
After her husband abandoned her and her two-year-old son, Metcalfe wrote letters to magazines advertising her work. She also sent personal letters containing drawings to her friends. Metcalfe became known as the"Sage Brush Artist" and the "Grandma Moses of the West." Her works have been exhibited in galleries and museums across the country. Metcalfe was inducted in the Oklahoma Hall of Fame in 1968. In 1971, Augusta Metcalfe died at the age of 89.
right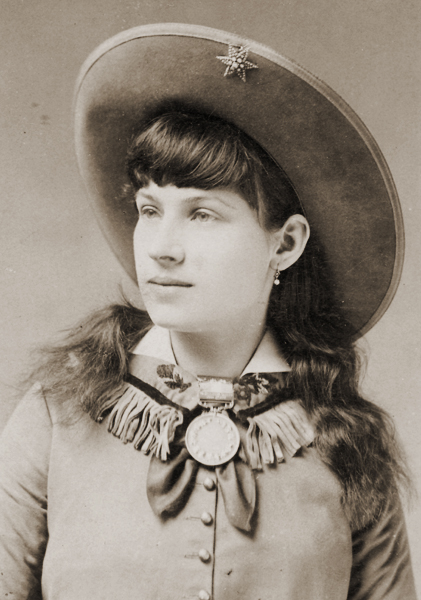 Phoebe Ann "Annie Oakley" Mosey
(August 13, 1860 – November 23, 1926)
"I feel now and then as if I could not miss."
– Annie Oakley, sharpshooter
Phoebe Ann Moses was born in Darke County, Ohio, where after her father's death she learned to shoot. Annie used her skills to help her mother by providing fresh meat for her family. Her early life was filled with hardship when, after her mother could not afford to care for her, she was sent to work for a local family. This family treated Annie as a slave, abusing her both mentally and physically. Garnering her courage, Annie ran back to her family where she remained until her sister requested that she come live with her in Cincinnati. It was near Greenville, Ohio, where Annie participated in her first shooting competition, winning fifty dollars and the heart of her competitor Frank Butler.
After marrying Frank, who encouraged Annie to pursue her goal of being a sharpshooter, they eventually joined the Buffalo Bill and his Wild West Show in 1885. She soon became the number two spot in the show. Annie's accuracy and speed gained her the nickname of "Little Sure Shot." Annie remained with Wild West shows for seventeen years, traveling to many places including New York, London, and Paris. On November 3, 1926, Annie Oakley died of pernicious anemia, which is a severe form of anemia most often affecting older adults, caused by failure of the stomach to absorb vitamin B12.
Jeannette Rankin
(June 11, 1880 – May 18, 1973)
"Men and women are like right and left hands; it doesn't make sense not to use both." 
– Jeannette Rankin, politicianThe daughter of a rancher and lumber merchant, Jeannette Rankin attended Montana State University in 1902, where she earned a Bachelor of Science degree in biology. She also attended the University of Washington in Seattle in 1910, where she became involved in the women's suffrage movement. In 1914, Rankin moved to Montana and two years later she ran for and was elected as the first woman from the West to the U.S. Congress. Rankin served two terms as a Congressional representative for Montana.Rankin is, perhaps, best known for her votes against the United States entering both World War I and World War II. After leaving Congress, Rankin continued to be a voice for peace throughout her life, which included her leading protest against the Vietnam War.
right
Sarah Winnemucca
(1844 – October 16, 1891)
"I have not contended for Democrat, Republican, Protestant or Baptist for an agent. I have worked for freedom. I have laboured to give my race a voice in the affairs of the nation."
– Sarah Winnemucca, author
Sarah Winnemucca, a member of a tribe of Paiutes in northern Nevada, was born in 1844. She lived briefly with a trader's family where she learned to speak English. Using her abilities with language, Winnemucca became a champion for her people. Fueled by her sense of justice, she traveled across the country speaking about the conditions her people were being subjected to after they were moved onto a reservation in Oregon.
Winnemucca used her skills to create, with the help of Mrs. Horace Mann, her book, Life Among the Piutes: Their Wrongs and Claims, which was published in 1883. Within the pages of this book, Winnemucca recounts the hardships and injustices suffered by her people.